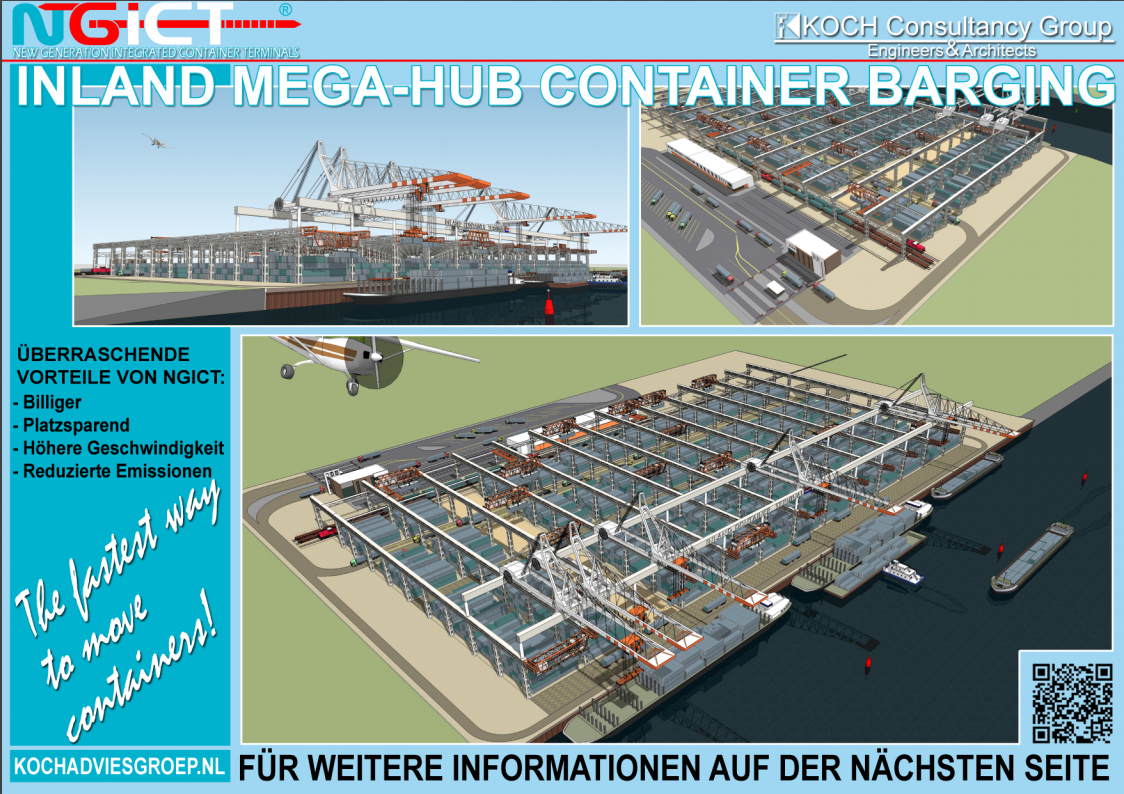 THE NGICT CONCEPT FOR AN INLAND CONTAINER BARGING MEGA-HUB OFFERS SURPRISING ADVANTAGES
The Dutch engineering company F. Koch B.V. have developed a new concept for container terminals. Although this new NGICT (New Generation Integrated Container Terminal) concept was initially devised to improve the logistic processes of sea port terminals, it has also been found to offer surprising advantages for inland terminals:
Lower investments per TEU.
Lower operating expenses; lower weight of your own transport equipment.
Improved flexibility.
Higher speeds shorten the time that vessels are moored.
The stack density may be as much as 1,400 TEU per hectare, enabling considerable space savings.
Allows for a higher degree of automation.
Higher safety levels.
More economical ecological footprint; lower energy consumption.
Lower emission levels (everything is electrical).
Lower noise nuisance for the surroundings.
The quay is less burdened; operations without a quay are even possible.
Since all transport is by air, lower requirements apply to the pavement and sewerage systems.
Old, existing inland terminals can be reconstructed by applying the NGICT stack system, enabling considerable space savings and higher speeds to be achieved.
ÜBERRASCHENDE VORTEILE DES NGICT-KONZEPTS BEI EINEM INLAND-MEGAHUB FÜR DIE CONTAINERBINNENSCHIFFFAHRT
Das Niederländische Ingenieurbüro F. Koch B.V. hat ein neues Konzept für Containerterminals entwickelt. Obwohl das ursprüngliche NGICT-Konzept (New Generation Integrated Container Terminal) für die Verbesserung des Logistikprozesses in Seehafenterminals gedacht war, hat sich gezeigt, dass es auch bei Binnenterminals überraschende Vorteile bietet:
Niedrigere Investitionskosten pro TEU.
Niedrigere Betriebskosten; geringeres Eigengewicht der Transportmittel.
Mehr Flexibilität.
Höhere Geschwindigkeiten verkürzen Liegezeiten.
Mit einer Stapeldichte von bis zu 1.400 TEU pro Hektar lässt sich ein hoher Platzgewinn erzielen.
Höherer Automatisierungsgrad möglich.
Höheres Sicherheitsniveau möglich.
Günstigerer ökologischer Fußabdruck; niedrigerer Energieverbrauch.
Weniger Emissionen (alles elektrisch).
Geringere Lärmbelastung der Umgebung.
Viel geringere Belastung der Kaianlage; die Kaianlage kann sogar weggelassen werden.
Sämtliche Transportbewegungen erfolgen bodenfern; die Anforderungen an die Geländebefestigung und Kanalisation sind aufgrund dieser geringeren Belastung geringer.
Bestehende Binnenterminals können durch den Einsatz des NGICT-Stapelsystems umgebaut werden; dadurch lassen sich viel Platzgewinn und größere Geschwindigkeiten erzielen.